Circadia Skincare Products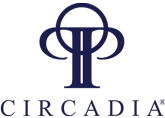 At Circadia, our philosophy of skincare is centered on the body's circadian rhythms, defending from environmental insult during the day, and stimulating repair mechanisms during sleep. Circadia's products utilize paraben-free preservative systems, a multitude of cutting-edge ingredient technologies and specialty items for comprehensive treatment of aging skin, pigmentation disorders, acne and rosacea. The company also boasts a clinically evaluated moisturizing pillow case which is an exclusive all-night skin care treatment accessory.
Circadia by Dr. Pugliese has a rich history and bright future. Dr. Pugliese, Circadia's founder, remains a strong, influential voice in the science of aging skin. Michael Pugliese, Circadia's CEO, has earned a distinguished reputation as a lecturer in skin science and as an innovator in product formulation.
Circadian Rhythms and The Skin
The human body is governed by the Circadian Clock Genes that regulate everything from digestion, body temperature, pH and your body's ability to protect and repair. The skin is the largest organ of the body and has direct exposure to UV radiation and environmental toxins, the skin has the ability to program its own circadian rhythms.
Proven Ingredients
We are dedicated to formulating result driven products combining pure botanicals, stem cells, second generation vitamins, and innovative peptide technology to achieve optimal skin health and beauty.
Chronobiology, the science of defending skin from environmental damage during the day, and stimulating internal repair mechanisms during sleep, is at the core of our concept.
Formulated by Experts
Dr. Pugliese was the first practicing physician to bring the science of skin to the esthetician with his ground-breaking textbook, Advanced Professional Skin Care, published in 1990. Dr. Pugliese provided skin care specialists with new illustrations, accurate medical terminology and introduced the fundamentals of cosmetic chemistry.
Circadia Gel with Salicylic Acid
This light cleansing gel lathers into a creamy foam that deep cleans, while beta-hydroxy salicylic acid helps to soften and exfoliate.
CONTACT US TODAY
Book Your Free Consultation