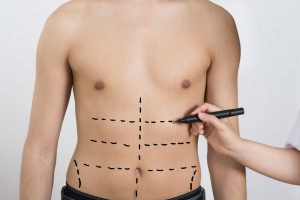 In a world where cosmetic surgery has primarily been dominated by female patients, it may be surprising to some to hear that cosmetic surgery is consistently gaining popularity amongst male patients year after year. Here at Deroberts Plastic Surgery, we offer five plastic surgeries that are designed just for men.
Male Liposuction
Losing weight is a big accomplishment for anybody but getting rid of stubborn fat isn't always possible— no matter how hard you try. Luckily, with male liposuction from DeRoberts Plastic Surgery, we can get rid of excess stubborn fat so that you can enjoy the body you've worked so hard to achieve.
Male Breast Reduction
It's estimated that about 65 percent of men have been or will be affected by gynecomastia at one point in their life. Gynecomastia is a condition caused by hormones that cause men to develop breasts. During a male breast reduction surgery, we will remove the excess breast tissues to help give you back your masculine chest.
Tummy Tuck
Our male patients come into our office to get a tummy tuck to enhance their abdominal muscles and trim their waistline. Here at our office, we offer a variety of different tummy tuck procedures— all of which we can go over during your initial consultation.
Body Contouring
Body contouring includes contouring all parts of the body including the abdomen, buttocks, body fat transfers, and more. One body contouring procedure, in particular, that's popular amongst men is bicep, tricep, and calm implants. During this procedure, we will use implants to accentuate your muscles and add more definition.
Neck Lift
Nothing is quite as masculine as a chiseled and defined chin and neckline. During a neck lift procedure, we will lift and tighten the skin around the neck to give you a more masculine and thoughtful looking appearance.
Cosmetic surgery isn't just for women. If you are interested in learning more about these male procedures, schedule a consultation with Syracuse office today: 315. 299.5313.