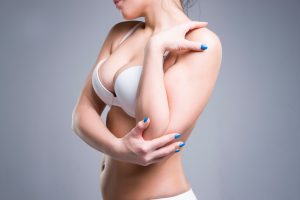 In the world of breasts (and in the world, in general) bigger oftentimes seems better. But for some of our patients at DeRoberts Plastic Surgery, bigger breasts can mean more back pain, poor posture, chest pain, and just a level of discomfort overall– which is why we offer a surgical procedure called a breast reduction.
What Is a Breast Reduction?
During a breast reduction, one of our surgeons will either remove your breast implants and give you implants that are a better size for your body size, or they will remove existing natural breast tissue and fat to give you a smaller sized chest. During your initial consultation at DeRoberts Plastic Surgery, we will go over all of your surgical options to help you decide which one is best for you.
Why Get a Breast Reduction?
As previously mentioned, there are a variety of reasons that some of our patients choose to get a breast reduction for including the following:
Back Pain: One of the most common reasons that patients choose to get a breast reduction is for back pain. If a woman's breasts are too large for her body and body frame, they can often place undue pressure on the back which can result in serious back pain and even complications.
Poor Posture: Many patients who suffer from back pain also suffer from poor posture which can contribute to a variety of other issues as well as a lack of self-esteem.
Chest Pain: Similar to back pain, some women who have oversized breasts complain that they feel a heavy weight on their chest that can be painful.
Overall Discomfort: Many patients who choose to get a breast reduction, complain of feeling uncomfortable overall and would much rather have smaller breasts.
Feeling in pain and discomfort are two things that we don't want any of our patients to experience— especially if it's long-term. If either you're augmented breasts, or natural breasts are giving you any of the issues listed in this article, it may be time to consider getting a breast reduction.
Schedule your breast reduction consultation at our Syracuse office today: 315-299-5313.