What is Otoplasty (Ear Surgery)?
Otoplasty is a cosmetic surgical procedure designed to improve the appearance of the outer ear auricle and pinna. It is the only cosmetic reconstruction more popular in children than adults and often provides immense psychological and emotional improvement.
Different types of otoplasty may include reconstruction of a partially or completely missing external ear (microtia), correction of protruding or prominent ears (setback or pinback otoplasty), reshaping of congenitally deformed ears, and repair or reconstruction of the outer pinna or auricle after traumatic injury or cancer.
Is Otoplasty for You?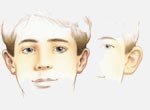 Good candidates for otoplasty are those with general good health and realistic expectations. Be sure to choose a surgeon with experience in this field who you feel comfortable discussing your questions and concerns with. This type of cosmetic surgery does not improve hearing and, as with microtia, may make hearing corrections difficult or impossible.
Preparation for this type of cosmetic procedure includes standard blood tests and a physical examination. Adult patients are advised to stop taking aspirin and quit smoking for at least two weeks before and after the operation. Shampooing and trimming or pinning back hair is also recommended. General anesthesia is used for children, while adults may have only local anesthesia with sedation. This type of surgery usually takes two to three hours to complete. Surgery for dramatic or intensive reconstruction may take three or four separate trips to the operating room.
Making the Decision for Otoplasty
If you are considering otoplasty, a consultation with a qualified surgeon is your first step. During the consultation, the physician will conduct an extensive review of your current and past medical history. He or she will examine your ears and outline a plan that fits your goals and expectations.
It is important to choose a surgeon that you trust and feel comfortable discussing your questions and concerns with. They should be able to adequately address your worries and ensure you have appropriate expectations.
Understanding Ear Reshaping Surgery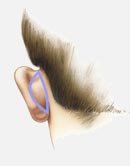 A typical otoplasty surgery involves an incision just behind the ear in the natural fold where the pinna meets the head. The necessary skin and cartilage are then removed by the surgeon and shaped into a more aesthetically pleasing form. Sutures are placed to anchor the new ear in its new position until healing occurs. Often surgeons will use absorbable sutures and tape to avoid disturbing the shape by removing the stitches later.
What to Expect After Ear Surgery
Post-operatively, soft dressings will be in place, and often headbands will be recommended for up to two weeks. Mild discomfort is common and risks are minimal. A thin white scar will remain behind the ear, but its size and location makes it almost undetectable. Risks can include formation of abnormal scar tissue, hematoma formation, distortion caused by overcorrection, or reappearance of protrusion.
Schedule a Consultation
For more information about ear surgery (otoplasty), contact Syracuse Plastic Surgery. Call our Syracuse, NY office at (315) 299-5313 to schedule a consultation.
CONTACT US TODAY
Book Your Consultation