What is Liposuction?
Liposuction is a cosmetic procedure that removes fat from specific areas of the body. This minimally invasive procedure targets areas where persistent or stubborn weight remains despite best efforts to remove it. These commonly targeted areas include the abdomen, love handles, inner and outer thighs, neck, lower back, knees, and arms. Liposuction can be done with minor sedation and treatment areas look slimmer, more contoured, and are in proportion to the rest of the body. Liposuction surgery starts at $3,700.00.
Liposuction Before & After
Before

Liposuction

After

Before

Liposuction

After

Before

Liposuction

After

Before

Liposuction

After

Before

Liposuction

After
Liposuction Candidates
Ideal patients for liposuction are over 18 years old, are in good overall health, and are maintaining their weight. Patients should keep in mind that liposuction is not a replacement for proper eating habits and an active lifestyle. Therefore, candidates should have lost the majority of weight desired through a combination of diet modifications and exercise before their procedure.
Types of Liposuction
There are various liposuction techniques that each come with their own set of pros and cons. The choice will depend on the patient and which area of the body is being treated. The types of liposuction include:
Super wet
Tumescent
Laser-assisted
Ultrasound-assisted
Power-assisted
The Liposuction Procedure
Regardless of the specific technique chosen, the basic steps of the procedure remain the same. First, Dr. DeRoberts or Dr. Armenta will place saline fluid into the treatment area. Then, he makes a very small incision to insert a cannula. This cannula is attached to an aspirator which suctions the fat out in layers from the area until the desired contour is obtained. Dr. DeRoberts or Dr. Armenta typically takes about 30-45 minutes to complete the surgery. The treatment time will vary based on the amount of fat and the number of areas Dr. DeRoberts or Dr. Armenta is treating at once.
Tumescent Liposuction
Dr. DeRoberts or Dr. Armenta commonly performs tumescent liposuction as it is safe and provides consistent results. Additionally, it provides Dr. DeRoberts or Dr. Armenta with the ability to transfer the fat to other areas of the body, such as the buttocks, face, and breast. The major difference between tumescent liposuction and traditional liposuction is the type of fluid Dr. DeRoberts or Dr. Armenta injects at the start of the procedure. Tumescent liposuction involves an anesthetic fluid which removes the need for additional anesthetic and can be performed without general anesthesia.
Before & After Liposuction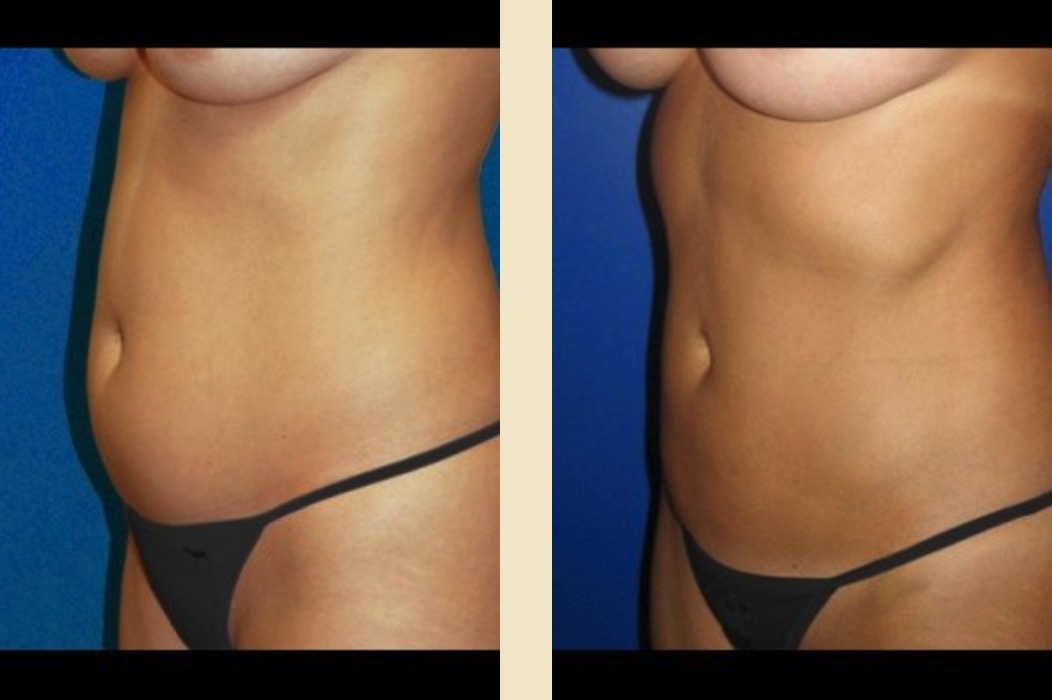 Recovery & Results After Liposculpture
Patients typically take 3 – 4 days to recover from liposuction. After that, patients can resume work and light activities. Exercise and strenuous activity are not permitted until 3 weeks after surgery. There will be some swelling, however, patients will see some results immediately.
Patients will not see their full results until 6-10 weeks after surgery. Since liposuction requires only small incisions there is little to no scarring. Unless there is a drastic change in weight after surgery, the results are long-lasting and there is usually no need for repeat surgery.
Liposculpture Risks
In addition to the typical risks of surgery, liposuction specific risks include:
Loose or rippled skin
Worsening of cellulite
Asymmetry
Contour irregularities
Irregularities in pigmentation
Alternatives to Liposuction
Liposuction is considered the gold standard for fat removal from the body. However, some patients do not want to undergo surgery. In those cases, patients may choose CoolSculpting and SculpSure. These procedures dissolve approximately 20% of the fat cells in the targeted area and offer a shorter recovery time. CoolSculpting and SculpSure do provide less dramatic results and many patients find they need multiple sessions to achieve their desired results. In the long run that can end up costing more time and money.
Schedule a Consultation
For more information about liposuction, contact Syracuse Plastic Surgery. Call our Syracuse, NY office at (315) 299-5313 to schedule a consultation with Dr. DeRoberts or Dr. Armenta.
CONTACT US TODAY
Book Your Consultation