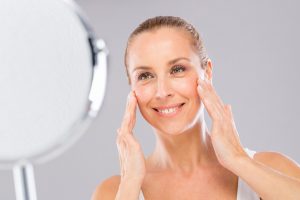 Kylie Jenner made having a bigger pout, the biggest trend in Hollywood when she debuted filler filled lips a few years ago. And although we thought that trend would only last a minute, more and more people have opted to get fuller lips with the help of fillers. But fillers aren't just good at plumping up your pout, they are also good at filling in fine lines and wrinkles and adding volume to your skin. Here at DeRoberts Plastic Surgery, we offer two types of fillers: Juvederm and Radiesse. Let's take a closer look at both of them to help you decide which one is better suited to you.
Juvederm
Juvederm is one of the most popular fillers and can be used to fill in nasolabial folds, plump lips, and add contour to your cheeks. Made of hyaluronic acid, Juvederm gives patients instant results that are worth bragging about. Plus, one of the unique benefits of Juvederm is that it lasts up to an entire year on average— giving you more time to enjoy its unique benefits.
Radiesse
Radiesse is made up of Calcium Hydroxylapatite (CaHA). Once injected into the skin, Radiesse not only provides immediate results, but one of the unique things about Radiesse is that it continues to provide results later on. Once it is injected into the skin, Radiesse works to fill in fine lines and wrinkles and add more volume to the skin and typically lasts around one year. It keeps on working because after the body metabolizes CaHA, it leaves behind your own collagen which continues to give you a more youthful look.
Both Juvederm and Radiesse are great fillers that will give you unique results. If you want to learn more about which one of these fillers is right for you, schedule a consultation at our Syracuse office today.